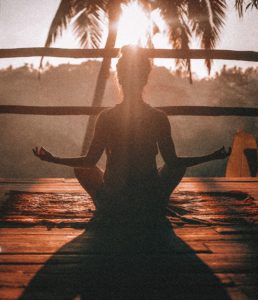 Contributed by Sally Keys
Feel Your Best, Be Your Best
Our mind, body, and spirit are connected in a way that science has not been able to understand or pinpoint. Yet there's growing evidence that the more spiritual you are, regardless of being religious or not, the healthier and more satisfied you become with your life. Spirituality can be defined as your attempt at finding peace, meaning, and a sense of purpose, hope and comfort in your life. The Yamas and Niyamas as ethical guides offer a way to reawaken spirituality. Additionally, research has found that the positive feelings you gain from your yoga practices lead to a stronger, happier and more confident you. And while some people find spirituality in arts, music, and religion, others experience it in seeking an intimate connection with nature.
Spirituality gets us closer to nature
We are constantly torn between science's objective analysis and spirituality's subjective understanding. In the past, a person's whole outlook of the world was complemented by both his knowledge and his beliefs and spiritual practices. Trying to get back to that harmony and balance is one of yoga's main goals. To create an intimate relationship with the environment and connect with nature's inherent equilibrium. By tapping into the vast symmetry of the universe we become more attuned with the peacefulness within us.
Tuning in to the natural world
Humans are inclined to gravitate toward spirituality and natural elements. Receiving flowers makes us happy not only because they come from a person we care about, but also because they remind us of the notion of growth as flowers later morph into fruit and produce seeds. E.O Wilson, a researcher and naturalist, noted that we have a predisposition to preserve and enjoy nature. He asserted that those of us who embrace that nature-loving tendency will have less mental health issues later on in life. Exploring and investigating nature fills us with a sense of wonder and belonging that is both empowering and healing.  
Re-awaken your spirituality
Getting in touch with your inner-self has nothing to do with beliefs or certain practices. Yet the more you advance in your yoga practice, the more spiritual being you become. You can find meaning in life by focusing on the self. As you embrace yoga in search of your inner strength, you'll find that dependency on external sources like food, alcohol, drugs and unhealthy relationships diminishes. This allows your true, happy self to emerge unblemished. Likewise, addressing your emotions and adopting an active lifestyle will help you open up to people and experiences and go about life with a calmer and more centered mind.
With yoga you direct your attention to a specific focus which awakens and nourishes your spirituality. Spiritual strength is an important weapon in getting over hardships. No matter what life throws at you, the more spiritual you will find a way to overcome it, bounce back and carry on with your purposeful life.